Best Screen Recording Software for Windows 2019
The ability to make a screencast video can also be used to showcase your creativity when playing games like Minecraft and recreating scenes from movies and/or filming music videos in simulation games like The Sims.
Most video screen capture software utilities have a number of attributes in common, such as the ability to:
film picture-in-picture to capture video from screen and webcam

edit and annotate a video after it has been filmed

create videos in a variety of commonly used file types
Completed videos may be uploaded to YouTube, posted on web pages or social media, and/or uploaded to e-Learning courses.
Here is a list of the top 10 video screen capture software.
1. Camtasia
With Camtasia, you can record professional videos of activity on your computer's monitor with minimal effort. In addition to recording videos, Camtasia also lets you import HD video into your recording from an external source. Camtasia is unique in that it can create interactive videos containing clickable links to generate dynamic video content suitable for use in the classroom or the workplace.
Pros
records on multiple video and audio tracks

has green screen effect to make it seem as if you are a part of the action

easy to incorporate animated items, like callouts and scrolling text

Google drive integration

free app available to record videos on mobile devices and transfer to Camtasia for editing
Cons
demo of full software is only free for 30 days

users are prohibited from creating videos for commercial purposes when using the free version
Here's what you get with the paid version
Camtasia is $249.00 USD to purchase a software key for a single user license. You can save a bit of money (about $10.00) if you purchase 5-9 licenses. Discounts increase to about $50.00 per license when you buy 15-24 licenses. When you purchase a license you get:
updates to your purchased version

permission to install the software on up to 2 machines
2. iSpring Free Cam
iSpring Free Cam is free screen recording software for Windows to help you record screencasts with ease. A number of video editing tools and functions come with the software to let you delete fragments of video, remove background noise, and apply audio effects. Videos may be saved as WMV or uploaded to YouTube.
Pros
no watermark, time limits and ads

records voice from a microphone, system and mouse sounds

users can edit audio and video to fine-tune recorded screencasts

saves videos in HD format (up to 720p or 1080p)

uploads video to YouTube for sharing
Cons
no webcam recording

saves recordings as WMV only
There is no paid version of iSpring Free Cam, software is absolutely free.
3. Screencast-O-Matic
Screencast-O-Matic allows you to make recordings from your screen or webcam. Though you can upload your videos to YouTube, you also have the option to upload your videos to Screencast-O-Matic.com's free server host.
Pros
make recordings up to 15 minutes in length with the free version

limited options for publication with free version

recording from both screen and webcam

the paid version is inexpensive
Cons
watermark is visible on videos made with free version

recording computer audio requires Windows Vista or later
Here's what you get with the paid version
Upgrading to Screencast-O-Matic Pro costs $1.5 month for solo deluxe, or $4.00 month for solo premier. Paid features include:
elimination of watermark

recording of computer audio

access to editing tools

the ability to publish to Google Drive, Vimeo Pro, and Dropbox

securely backup recordings
4. GoPlay
Though it seems to be designed for use with games, GoPlay records anything on you can display on your screen. Because it is designed with gaming in mind, recording is smooth and seamless and hardly noticeable as you play. SmartPixel claims to use advanced video compression technology to create high quality videos that improve on disk space utilization.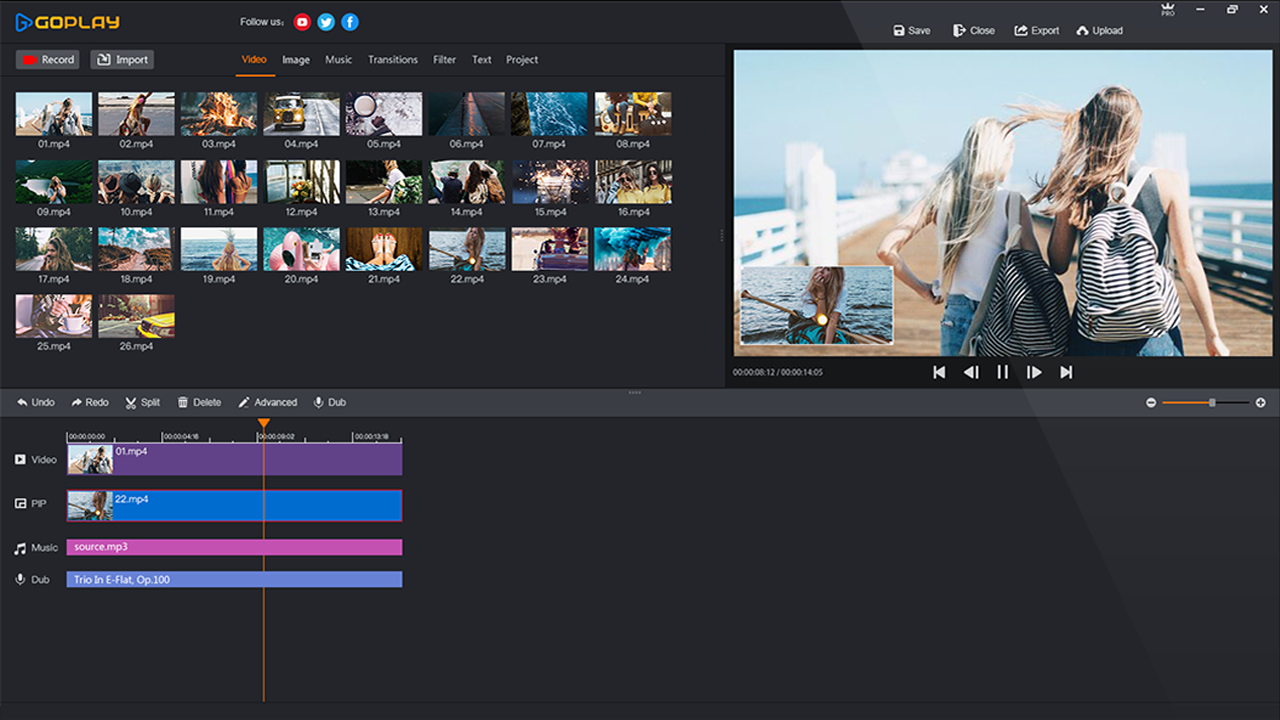 Pros
records HD videos and optimizes disk space

picture-in-picture mode simultaneously records what's on your monitor and on your webcam

post-editing functions include clipping, merging, dubbing, and adding subtitles
Cons
no multilingual version available, but the web site says it's on the way
Here's what you get with the paid version
GoPlay licenses are available for $4.9 USD for one month, $9.9 for 3 month, and $24.9 for one year license. With the paid version, you can
record with no watermark

personalize your definition settings

record with higher frame rates

record with 1080p with film quality

unlimited using footage of effect store
5. Screenflow by Telestream – Mac Only
Screenflow allows you to capture everything on your computer, including your entire monitor area, webcam, and microphone and computer audio simultaneously. With Screenflow you can record and edit your video and share it to a number of social media platforms. Screenflow boasts that they have the best quality screen capture available, even when viewed on Retina Displays.
Pros
allows you to record and edit after recording is done

support for closedcaptioning your video

the ability to export in a wide variety of file types for publishing

no time limit to free version
Cons
videos created with free version are watermarked

you must pay to upgrade from previous versions
Here's what you get with the paid version:
Screenflow costs $99.00 USD. You can purchase a backup disk for $20.00. Upgrades from previous versions cost $34.00. Though the free version is totally functional and without time limit, with the paid version, you can
export videos without a watermark
6. TinyTake
TinyTake claims to be the best free screen capture and video recording software out there. The software allows you to capture a video of your screen activity, annotate it, and share it on social media. TinyTake advertises itself as simple, free, and feature-rich, though many features are only available with the paid options.
Pros
can use for free but with limited features

can add graphics from your local drive for annotating files

built-in viewer is optimized for mobile devices
Cons
free version is extremely limited

no free version for commercial use
Here's what you get with the paid version
TinyTake's prices range from $9.95 USD for a one week pass, $29.95 annually for the Standard plan, up to $199.95 a year for the Business plan. With the paid plans you get
increased storage up to 2TB with the Business plan

length of video stretches from 5 minutes with free plan up to 120 minutes for the one week pass and Business plan

video annotation

elimination of ads and promotions